Build powerful TV Show apps without coding
Create your mobile app today with Choicely's drag & drop builder to grow your business.
Visual app builder - No coding needed
Apps ready for Google Play & Apple store
Support tailored to your needs
Trusted by leaders in media, sports & entertainment
Enterprise grade scalability for millions of users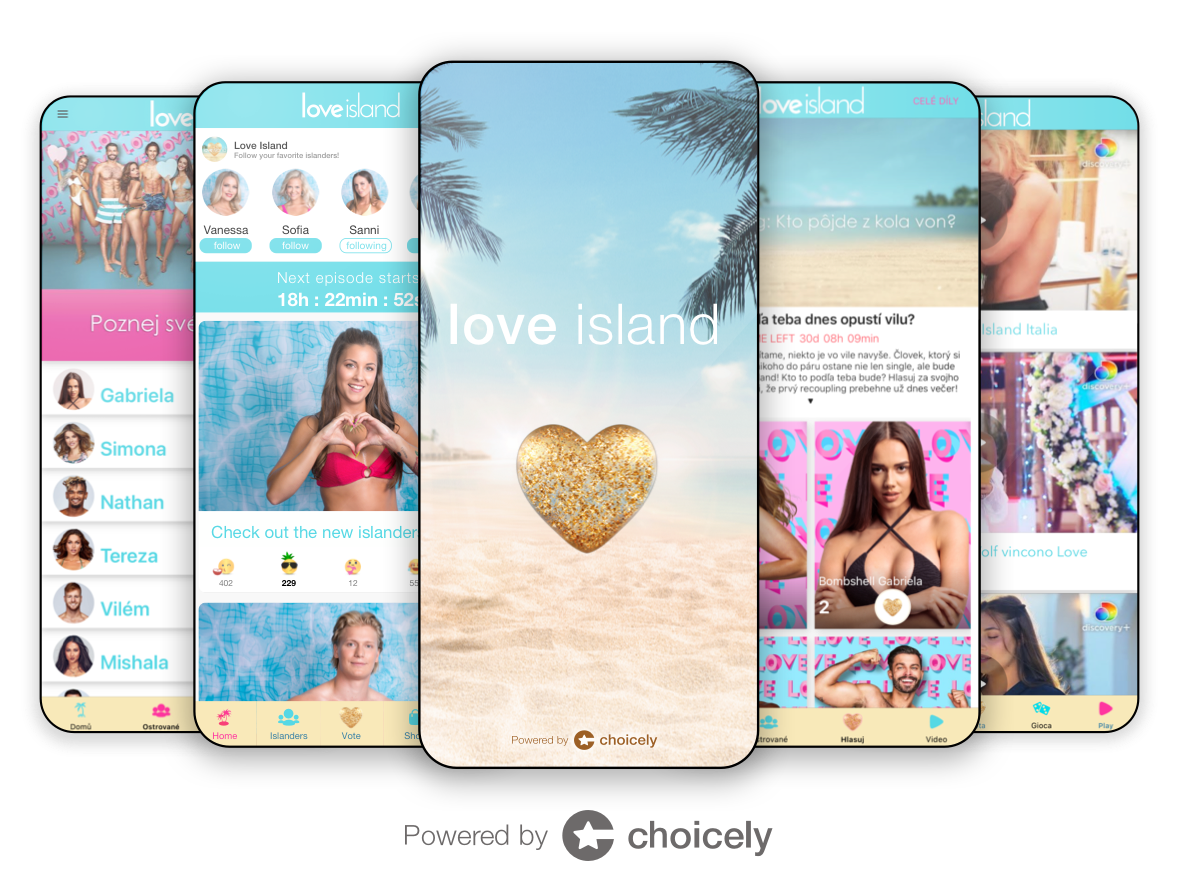 Investment with fast ROI
Investing in TV Show apps can be costly. Developers must know how to code for both platforms, Apple and Android. That alone doubles costs, is a fact.
Choicely studio reduces production costs, increases sales and improves time to market from months to weeks. We support you all the way, from design to rollout.
By choosing Choicely you double your gains.
Drive customers to your priority platforms
Sell premium votes, merchandise & sponsorships
Powerful fan activations with instant push notifications
Decrease productions costs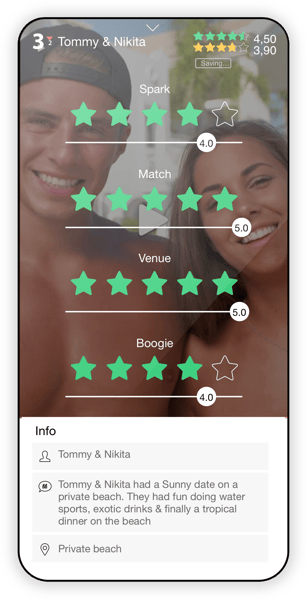 Build high quality TV Show apps without coding - with Choicely
Build highly engaging "TV Show companion apps" to join a growing number of success stories from apps like Love Island around the world. The producers can create and manage the apps with an easy-to-use drag&drop builder and add powerful activations like voting, rating, polls, casting, surveys, reaction buttons etc to grow the user base and time spent in the apps.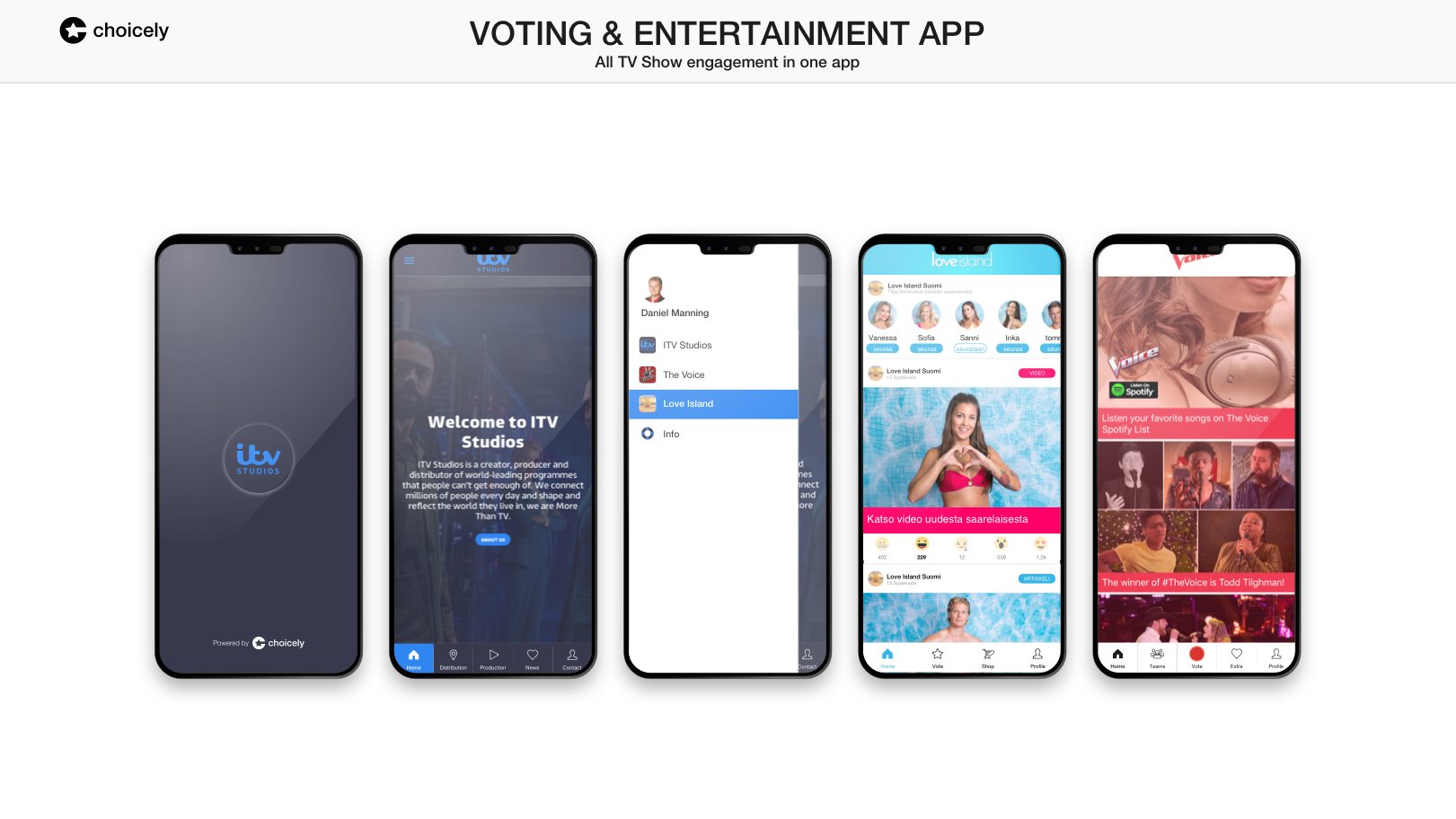 365 Voting & Entertainment App
Choicely offers also a "365 Voting & Entertainment app" for broadcasters. The app includes a library of "TV Show companion apps", increasing engagement, stickiness and revenue for any number of TV Shows throughout the year. This way the broadcaster branded app becomes the home of all tv show engagement and enables powerful cross marketing of all tv shows throughout the year. The entire app can be customised to fit the broadcaster needs and provides fully customised mobile app experiences for each tv show.
TESTIMONIALS
What our customers say
"Choicely have been a great partner to work with on many of our global versions of the Love Island mobile app. We have found them to be flexible and accommodating as well as knowledgeable technology suppliers for our broadcasters and licensees. We look forward to exploring new opportunities with them going forward."
"We were looking for an easy-to-use software, that would act as a second screen for our show and would be easily tailored to our needs. We quickly recognised, that Choicely Studio, is exactly what we've been looking for. The success of the app, the continues support and care from the Choicely team and flexibility of the Studio made for an great experience. We are happy to continue our partnership for the next season."
"The Choicely team have proven highly proficient in terms of communication and creative solutions towards our digital needs. We have a lot of projects in the pipeline with Choicely and consider them one of the best in the business. Choicely is one of our few suppliers of choice and we have great faith in a long term partnership with them."
POWERFUL FEATURES
Here's all the good stuff
Enterprise grade scaling
Choicely technology provides enterprise grade scaling for millions of users from the day 1 of the app launch, tested with apps with millions of users from 200+ countries.
Integrations
Choicely studio offers comprehensive features and seamless integrations with any custom system, major software as services covering all areas from CRM, Video player and much more.
Distribution
Mobile apps made with Choicely can be published to App Store and Google Play at the same time, with no extra costs, with the touch of a button.
Intuitive design
No need to know how to code only how to compose. Our visual editor allows anyone to create mobile apps by just drag and drop elements into the studio. Fast to market at low cost? Choose wisely, use Choicely.
How to build mobile apps without coding?
With the Choicely mobile studio everyone can create a mobile application within hours. With our easy drag and drop visual studio, you don't need to know how to code but how to compose your ideas on a canvas. Our platform will take care the rest even publish it to Google Play and Apple store at no extra cost. We take pride in supporting our customers from design to rollout so get in contact now, your app could be ready to serve your business within hours.